December 23rd, 2020
2020 and the Future, from our Executive Director and Board Chair:
September 2, 2020
Regarding the efforts of the Lynda Fairly Carpinteria Arts Center for our community, from our Board Chair:
To the Carpinteria Community:
The uncertainty as a result of the pandemic has impacted every aspect of our lives like no other crisis in our lifetime. Add to that a major national social movement for equality and a divided partisan Presidential election year, it is no wonder that there is a widespread feeling of personal lack of control and heightened levels of stress/anxiousness.
Wanted to reach out to the community and do a collective thank you to everyone in the Carpinteria Valley. You all need to stand up and take a moment to acknowledge oneself, families, neighbors, friends; and, all the workers and employees, both public/private, that are there day in/day out for the community. The collective fabric of the community has certainly been stretched and tarnished somewhat but still intact!
From the onset of the pandemic, the nonprofits in the community and the establishment of a local dedicated 93013 Fund have quickly come together to limit the impact of the pandemic on delivering relief to those in need: weekly family food distribution, senior meals, Carpinteria Children's Project cares call line, supplies for remote learning and day care options for working families.
Here at the Carpinteria Arts Center, the Board, Staff and Volunteers had to quickly pivot to supporting our community in a totally virtual manner. The Arts Center identified the need for activities that can bring some fun creative routines to individuals and families at home for self care time! Given the economic impact of the pandemic, the Arts Center will be offering these online activities for free to support the families and individuals. Over the summer, the Arts Center conducted virtual days camps and completed another successful annual Teen Mural. Currently, the Arts Center has ten classes online scheduled for September/October and youth after school programs. In addition, the Arts Center collaborated with other organizations to do Community Art Projects: PostCards from the Pandemic and CarpRocks. And, this weekend the Arts Center is taking part with Mask Up Carp chalk art sponsored by the city.
So thank you to the community for coming together as only Carpinteria can to support the wellness and wellbeing of our little unique town during these challenging times. As your arts and community center, let us be here for you, now more than ever. Looking forward to when we all can meet in person at an Arts Center's activity.
Community/Creativity/Connection,
The Lynda Fairly Carpinteria Arts Center
Alan Koch
Board Chair
From our Executive Director:
May 29, 2020
May 1, 2020
Dear Arts Lovers,
🎨 In all of the lessons I have learned over these past few weeks, the most visceral one is how important people are to each other. As a community center that celebrates the arts, it pains us to not be able to gather. But we are here for you.
🎨 Stay tuned for virtual art classes and day camp opportunities coming this summer. Please visit our website
www.carpinteriaartscenter.org
to see all the distance learning and creative content we have already developed for the community. We want to keep the creativity flowing! If you want to share any creative ideas or content, please email Kristina Calkins, Operations Manager at
kristina@carpinteriaartscenter.org
.
🎨 Please know that all memberships have all been extended to when we reopen our doors, but if you would like to support the Arts Center now while we continue to serve the creative needs of the community, you can join or rejoin by clicking
here
.
Until we see each other again, call or e-mail me anytime to get an update on our activities, share an idea, or just to catch up,
paige@carpinteriaartscenter.org
or 805-452-1658.
🎨 I hope you are staying healthy, creative, and connected! I miss you all.

Executive Director
Thank you for all of your support of our community's Arts Center. If you have the ability, please support us
here
.
April 3, 2020
March 24, 2020
Dear Art Lovers,
These are very challenging times but we wanted to reiterate that we are all going through this together, even from 6 feet apart. I'd like to keep you informed about what is happening at the Lynda Fairly Carpinteria Arts Center and to let you know we miss you.
Our gallery remains closed but we are all working remotely. Phone calls are being re-routed and of course we are on email. The gallery will remain closed until the decision is made for us to reopen. Right now, there is no definitive time, although we are closely monitoring recommendations from local and national leaders.
All events and programs have either been canceled or postponed. Once the gallery reopens, we will issue a revised calendar.


In the meantime, the Carpinteria Arts Center is gearing up for immersive virtual activities for all to enjoy on our website. Please stay tuned.
We will send out frequent updates to all of you. There will be more to come on the virtual experiences to share and additional information regarding Carpinteria Arts Center news.
In the meantime, stay safe and be well. Cook something delicious. Try a new craft. Call an old friend. Scratch your dog's ears. I can't wait to celebrate with you all just as soon as we can.

Warm regards,

Paige Van Tuyl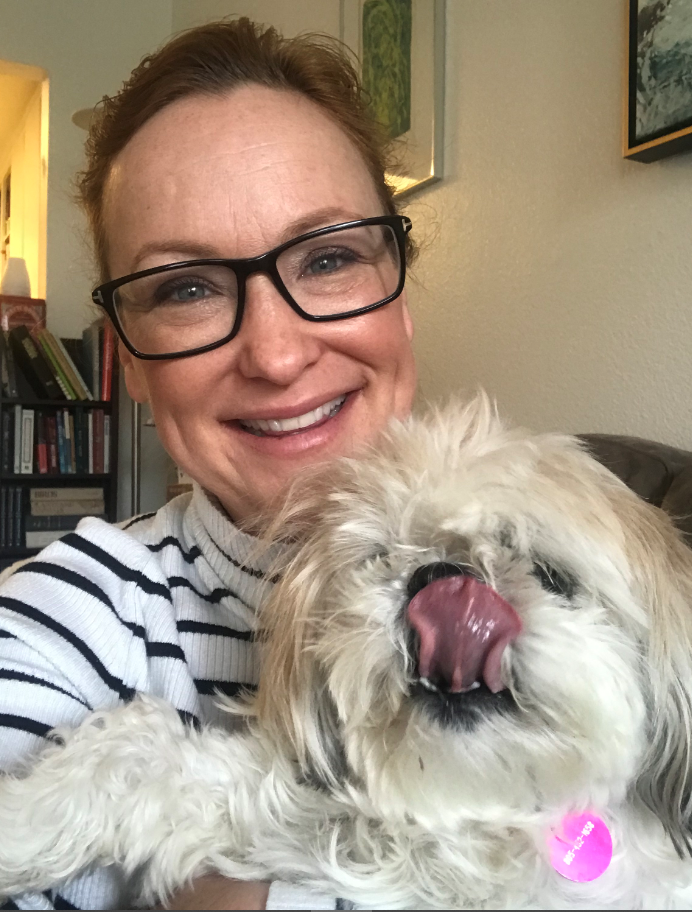 Paige at her home office,
with her fuzzy assistant, Ginny.