Teen Volunteers Brighten Up Art Camp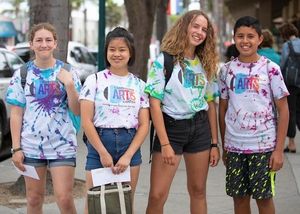 Teen Volunteers Brighten Up Art Camp
Teen Program Aids are responsible for assisting the professional teaching artists during summer art camp.
From left, teens Emma Lapidus, Jillian Stineman, Adele Brun and Eduardo Vences head into the Carpinteria Arts Center's summer camp program to volunteer.
This year's volunteer cohort includes a teenager from France, Adele Brun, who is spending a month in Carpinteria living with her California cousin and volunteering at the Arts Center.
This story was originally published in the Carpinteria Coastal View News Vol. 24, No. 41 June 5-11, 2018.
Photo by David Powdrell.