'Modern-Day Barn Raising'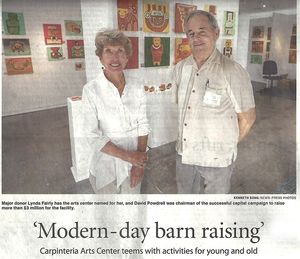 'Modern-Day Barn Raising'
The Santa Barbara News-Press featured the Carpinteria Arts Center in a 2-page spread.
The Carpinteria Arts Center was featured in an article written by Marilyn McMahon for Santa Barbara News-Press in their August 26, 2019 newspaper, documenting the generosity seen in the capital campaign and the gallery that sprung from it.
Photos by Kenneth Song.
CLICK HERE to view the .pdf article.