"Creative, connected and community oriented"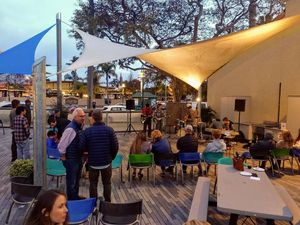 "Creative, connected and community oriented"
Carpinteria Arts Center looks to weather the pandemic storm.
The Carpinteria Arts Center's executive director, Paige Van Tuyl, has come up with "three Cs" to keep her focus in these challenging times: "We have to be creative, connected and community oriented." To that end, Van Tuyl has overseen a rapid expansion of online activities at carpinteriartscenter.org.
Free classes—including a short seven- to eight-minute watercolor tutorial from Janey Cohen and an upcoming class taught by Tammy Gilkey—along with virtual home arts tours are some of the Art Center's new online offerings.
The Art Center's popular summer art camps will be held virtually, "taking into account there won't be a daycare element," Van Tuyl said. Anticipating that children may well be burned out from maximum screen time come summer, Arts Center staff are planning on giving exercises in short online presentations, then letting kids work on their own before reconvening.
It's all uncharted territory of course, like so many aspects of pandemic life. Van Tuyl said she is "hoping to have summer camp be free," and only charge participants for materials in the weekly classes that will accommodate 16 students. The board will meet soon to discuss the issue.
But the larger question Van Tuyl has been grappling with is value—how to keep the Carpinteria Arts Center relevant in this unprecedented and on-going new-normal. "Before we're an arts center," Van Tuyl said, "we're a community center."
Being sensitive to the immediate issue of food insecurity, Van Tuyl said that she has kept fundraising efforts focused on the 93013 Fund. But she also sees a vital role for the Arts Center as the community grapples with PTSD, anxiety, depression and alcoholism as the months continue to drag on in uncertainty with regard to repercussions from not only the possibility of debilitating illness, but also the unknown economic consequences of the pandemic.
"When you're focused on a project, you can't do the worry," Van Tuyl offered. "Now is the time to foster our mental health," she added. Van Tuyl also wanted to praise her Arts Center colleagues who she said, "jumped right in and asked, 'How can we be of service?'"
Like most organizations, businesses and households, the Arts Center is carefully evaluating its resources. Van Tuyl said that board president Alan Koch has put in "Herculean efforts behind the scenes," bringing his many years as a financial professional to bear on the center's budget.
The Carpinteria Arts Center intends to continue to offer new programming online, and meet individually with any community members who may need help accessing online platforms. "We all have the same passion," Van Tuyl said, "to keep the Arts Center alive."
Written by Christian Beamish. Read the original article on the Coastal View News website here.