Eight one-week day camp sessions ◊ Monday - Friday ◊ 9 AM - 3 PM
Ages 6 to 12 ◊ morning art, afternoon music/drama

◊ Week 1 June 22-26 ◊
◊ Week 2 June 29-July 3 ◊
◊ Week 3 July 6-July 10 ◊
◊ Week 4 July 13-17 ◊
◊ Week 5 July 20-24◊
◊ Week 6 July 27-31 ◊
◊ Week 7 August 3-7◊
◊ Week 8 August 10-14 ◊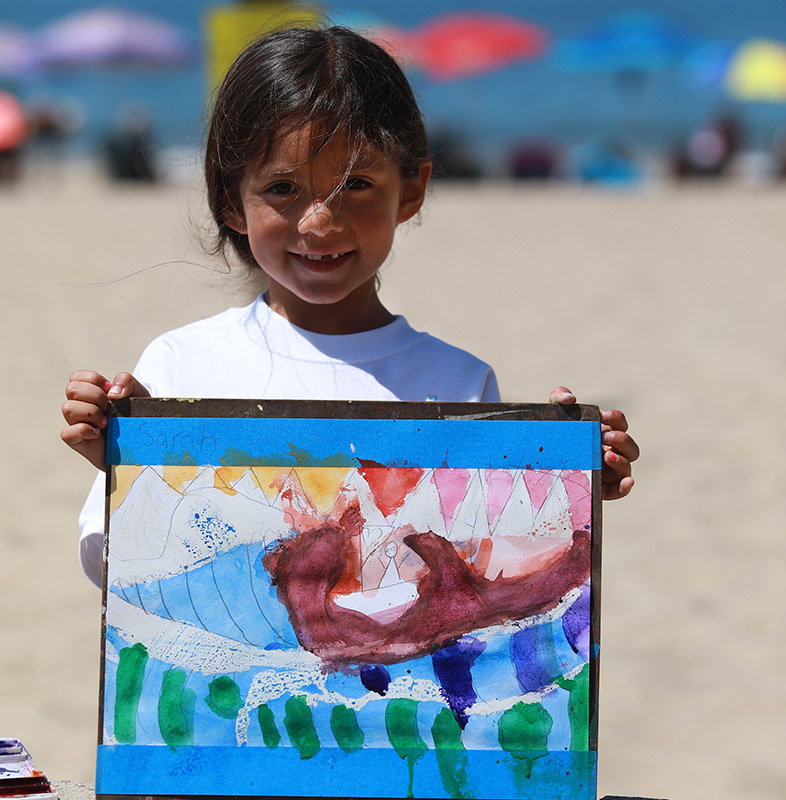 ¤ A special theme each week with new projects!
¤ Each week has a fieldtrip to paint at the beach which is just down the street!
¤ Children put on a public art show AND a music/drama performance on Friday afternoon!
¤ All art materials/supplies, snacks, and t-shirt are included.
¤ Each child should bring their own lunch and waterbottle.
No family should be discouraged from applying to summer camp because of lack of funds - we have tuition assistance awarded on the basis of need. As a general rule, scholarships do not exceed one half of the fee. Click HERE for the English online form. Click HERE for the Spanish online form.
Click here for Teen Volunteer Opportunities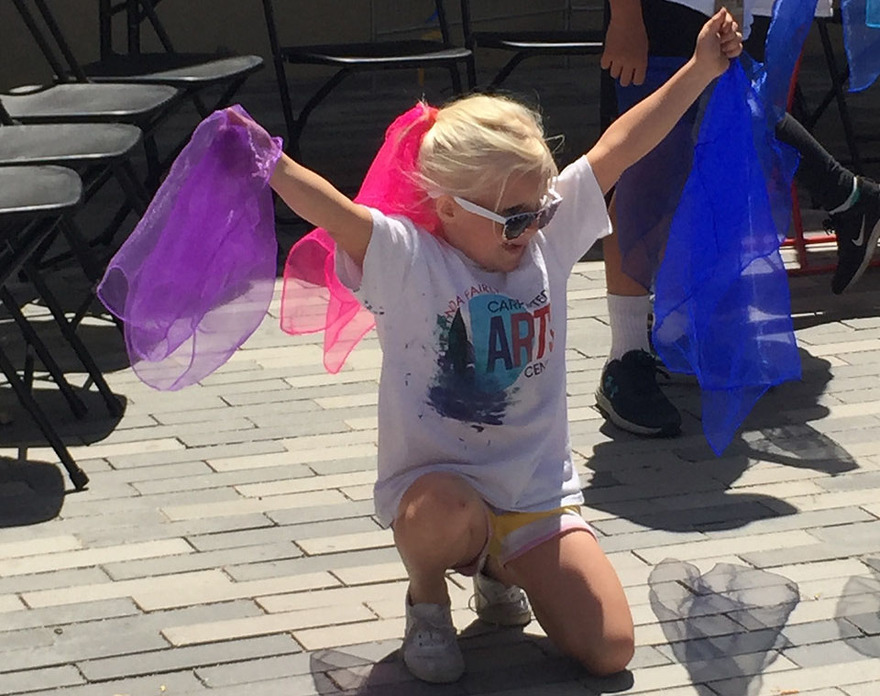 Check out our FACEBOOK PAGE for lots of past Summer Camp PHOTOS!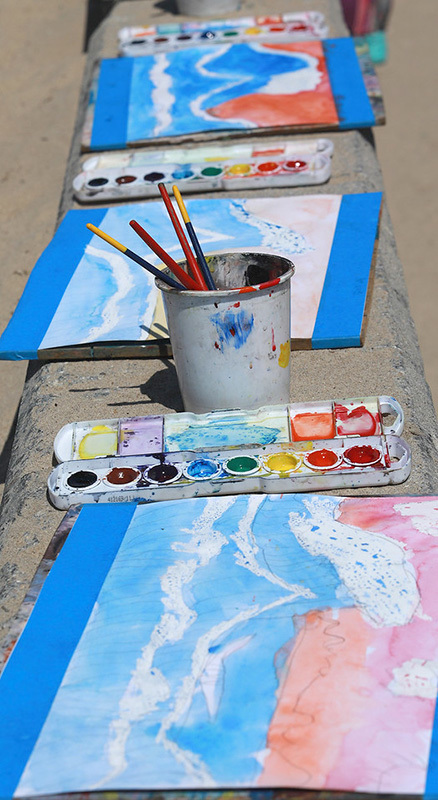 Arts by the Sea summer day camp has a long tradition of offering children a chance to spend their time outdoors exploring a variety of media as they create fine art.
Each morning, campers enjoy learning about various art styles such as Impressionism, Expressionism, Cubism etc. and explore how to apply similar characteristics in their own artworks. Following the morning of hands-on art, including the weekly fieldtrip to paint at the beach, campers enjoy a music or drama session in the afternoon.
The afternoon music sessions in the past explored traditions of Africa through stories, songs, and dances in preparation for a public performance on Friday afternoon. In addition to singing, campers play drums, ukuleles, marimbas and hand percussion. We have excellent instruments and enough for everyone to always be playing!
The afternoon drama sessions give the young actors the opportunity to learn the crucial skills of building characters and expressing interior emotions physically and vocally. Campers not only have a chance to improve their public speaking skills individually, but learn how to work as an ensemble, gaining valuable leadership skills while having fun and making new friends.
CARPINTERIA ARTS CENTER TEEN VOLUNTEER PROGRAM AID (PA) POSTIONS ARE AVAILABLE!
PAs may volunteer to assist campers and the professional teaching artists and earn 35 hours of community service per week, from 8:30 AM - 3:30 PM.
PAs that volunteer for at least five out of the seven camp weeks will earn FREE TUITION to our teen after school art class during the 2020/2021 school year.
PAs must commit to volunteering an entire camp week. They will be provided with a camp t-shirt and official recognition as a program aid. They are responsible for assisting the teachers by preparing materials and helping children with morning hands-on art making and afternoon session activities. They will take part in art making, performing arts, and working with children, and will receive mentoring by the teachers.
PAs will develop a relationship with the Carpinteria Arts Center, gain teaching skills, learn new art techniques, and make new friends. They will earn a letter of recommendation if requested at the end of the program.
Download the PA Application Here