Summer Camp Aide Application due May 31st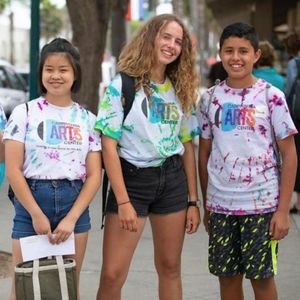 Summer Camp Aide Application due May 31st
Assist both the summer camp students and professional teaching artists for one week!
Application Deadline for the Carpinteria Arts Center Program Aides due May 31st for the Arts by the Sea Summer Camp
The Lynda Fairly Carpinteria Arts Center will be offering the Arts by the Sea Summer Camp beginning June 20, 2022. Applications are now available for the Program Aides (PA) positions which are a vital component to the annual camp. PAs assist both the students and professional teaching artists for one week.
Each of the in-person camps have six PAs positions available for teens entering 9th grade or above who are interested in art and/or working with children. The PAs volunteerism counts toward their required high school community service hours earning 35 hours of community service per week.
Applications are available at https://carpinteriaartscenter.org/summercamp and are due by Tuesday, May 31st.
The PA program is designed to encourage volunteerism and is an opportunity for teens to bond with their peers outside of the traditional school environment. PAs will develop teaching skills, learn new art techniques, establish mentors, and will gain similar minded new friends.
PAs are required to participate in an orientation/training session prior to camp season and receive mentoring by teaching artists and a letter of recommendation after the program if requested. The 2022 PA orientation, training and Arts Center tour is on Saturday, June 18 from 9:00 AM - 2:00 PM. Teens will create a camp shirt and snacks, lunch, and all art supplies will be provided by the Arts Center.
Arts by the Sea Summer Camp runs June 20 - August 5 with five one-week sessions and one two-week session.