Call for Art!
The next juried show taking place in the Charles Lo Bue Gallery on 865 Linden Ave in Carpinteria, on our website, and our social media platforms will be "Human Forms", an exhibit featuring figurative art portraying people and the human experience. All mediums are welcome. The exhibit will run from June 18th to August 1st.
The submission deadline is June 9th.
Please scroll below to view all rules regarding art accepted into the gallery. Your piece(s) will be rejected if not wired correctly.

If you are a member of the Lynda Fairly Carpinteria Arts Center, to take advantage of your Membership discount, sign in or register for an account on our website here. If you have created a new account, please allow one hour for your membership to sync with your website account. Once signed in, your membership discount will apply automatically when checking out your basket. If you have any questions or issues, please send an inquiry to info@carpinteriaartscenter.org
If you are a high school student, email info@carpinteriaartscenter.org with a picture of your student ID. A special discount code will be emailed to you on business days between the hours of 9 a.m. to 5 p.m.
Submit 1 PieceSubmit 2 PiecesSubmit 3 Pieces
After you submit your entries, we will need images of your art to promote on our website! Take photographs of your submitted artwork to create image file, and save image file as the name of artwork and your last name (example: "RinconMountain-Rhodes"). Image files must be a jpeg with a file size maximum of 3000 pixels in height or width. Email your image files to info@carpinteriaartscenter.org
Click here for Jewelry Ingathering Details
2-Dimensional Art
● Height plus width may not exceed 100" and weight must not exceed 30 pounds.
● Must be framed and wired for hanging:
Please make sure your artwork is ready to hang by following these instructions on wiring your piece properly before the in-gathering:

Choose the location for your hanging hardware. It needs to be about 1/3 down from the top of your piece. If too high, the wire will come above the top edge. If too low, the balance will be off and the top can kick off the wall instead of hanging snuggly against the wall.

Attach the two D ring picture hangers or eye screws. D rings go directly on the back of the artwork supports and eye screws go on the inner edge of the supports.
Thread and tie the wire through the hardware. Make sure the wire is then neatly wrapped around itself on both sides. You should have at least 2 inch "tail" on each side of the artwork depending on the size and weight of your piece.

Make sure your wire isn't too tight or too loose.

Hang it on the wall and check that it was easy to hang up and that the wire doesn't show. Please!!! Double check how it hangs on the wall.
● Unframed work accepted on heavy-duty stretcher bars with clean edges.
● Unframed work on stretcher bars less than ¾ of an inch will not be accepted.
● Photography must be signed (front or back).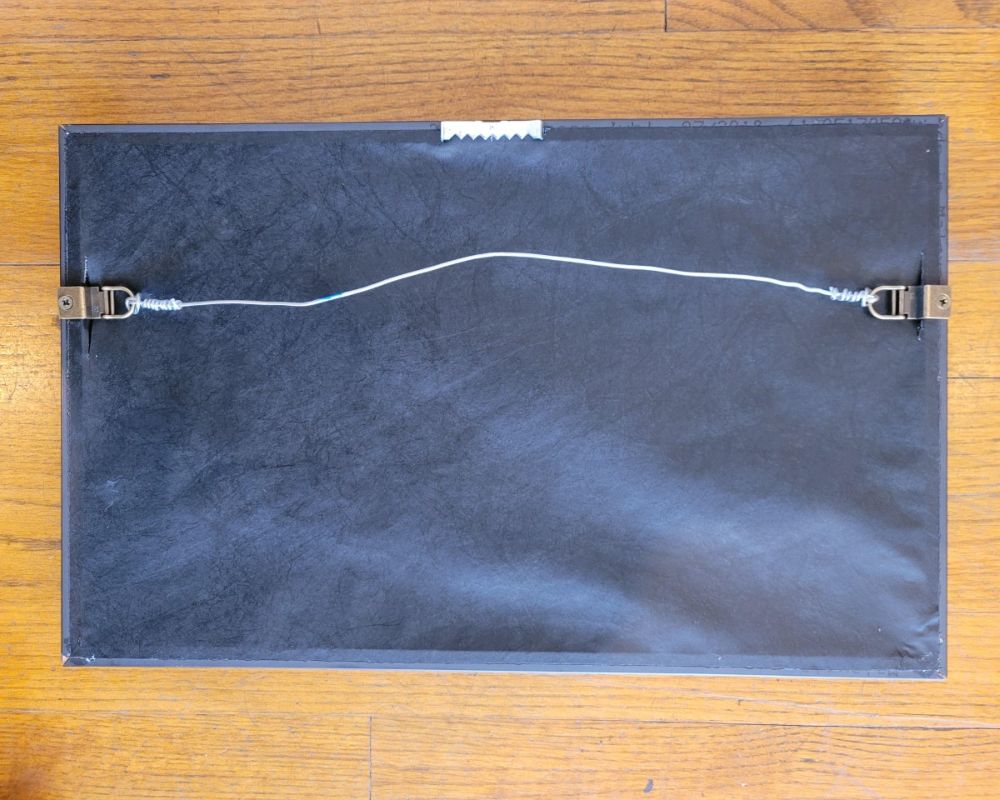 3-Dimensional Art
● Not to exceed 40" in any direction.
● Should be of solid construction.
● Should be either properly wired to hang or free standing.
● We have pedestals.
Entry Fees
● 1 piece $20 or up to 3 pieces $30
● LFCAC members and high school students receive $5 discount. If you are a high school student, email info@carpinteriaartscenter.org with a picture of your student ID. A special discount code will be emailed to you between the hours of 9 a.m. to 5 p.m.
● All work must be for sale, and 40% commission goes to the Gallery on all sales. Our non-profit gallery will appreciate a 40% commission on your pieces from this exhibition that sell outside the gallery within 30 days of the show closing as a result of being in the show.
Ingathering Information
We encourage submission of works that have not graced our walls within the last 12 months.
For the benefit of all artists represented, artwork that is accepted must remain at the gallery until the last day of the show, 4 p.m., unless the buyer is leaving town or the work is to be shipped.
Artist's Statement or Bio
Artists accepted in the show are encouraged to submit a short (1 page) Bio and/or Artist's Statement or update a previous bio on file. Please provide Artist Bios in a digital text format (.pdf, .doc, .odf, .txt, etc) to info@carpinteriaartscenter.org
Jewelry Ingathering
For more information, go to our Call to Jewelers Page HERE.