Letters of Praise and Grief, No Postage Required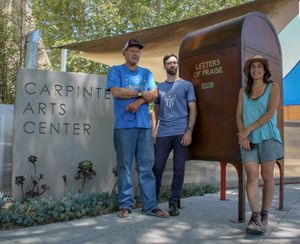 Letters of Praise and Grief, No Postage Required
Story Catcher Mailbox comes to Carpinteria
Made in a friend's garage of low-carbon steel, Danielle Siano's Story Catcher Mailbox stands 7.5 feet tall on Linden Avenue in front of the Carpinteria Arts Center. Plexiglas panels divide the installation in two—one side with a slot for letters of praise and one side with a slot for letters of grief.
Siano designed the interactive public art installation as an outlet for the complex emotions stirred in the community by the two recent natural disasters, the Thomas Fires and the Jan. 9 debris flows. "It addresses the experience of hearing everyone in our community cry out for help at the same time, while not one among us was armed with answers," wrote Siano.
Drawing from Martín Prechtel's book "The Smell of Rain on Dust: Grief and Praise," the Story Catcher Mailbox evokes the concept of grief and praise as two sides of the same coin. For Siano, to grieve is to feel loss for something that you loved or held deeply, a form of honoring what's been lost, while true praise will contain grief—the seedling knowledge that everything you have will one day disappear. "Grief and praise are like light and darkness," said Siano, "they need each other to exist."
"If you are grieving for something than you've loved it, and if you are praising something than you know that at some point you will have to let it go."
The mailbox's instructions are simple: write a letter and drop it in the slot. Letters can be signed or anonymous. The artist and friends from the mental health field read the letters aloud at periodic community readings. The mailbox gives letter writers the opportunity to articulate emotions, release and have their stories told.
"I see the mailbox as a healing box," said Siano, "it calls for letters of grief and praise, inspired by the collective experience with fires and floods, but when it goes on the street it accepts letters on any topics."
Before coming to Carpinteria, the Story Catcher Mailbox was at several locations in Santa Barbara, it's first home being downtown as part of the "State of the Art Exhibition 2018." On State Street, people wrote letters on grief expanding well-beyond the natural disasters. Siano said, "It's kind of like a wishing well for a community. Whatever's in it, it brings that out."
Executive Director of the Carpinteria Arts Center Rebecca Stebbins first saw the Story Catcher Mailbox on State Street and felt it had to come to Carpinteria because after the fire and mudslides, she had become even more aware of the power of art to facilitate healing through programs at the Arts Center where people came together, shared their grief and stress or just escaped for a few hours of joy.
"The Mailbox gives people a chance to tell their stories," wrote Stebbins, "I hope to see Carpinteria residents connect with each other and support each other, because engaging with art and with each other, we can strengthen the bonds that make our community such a wonderful place to live. It's a perfect fit for the Carpinteria Arts Center. Also, I like that it's such a beautiful piece of craftsmanship."
Siano would like to see the Story Catcher Mailbox spend time in each one of the small towns in our region impacted by the fires and floods, including Ventura and Ojai. Needless to say, she thinks it would be particularly powerful on Coast Village Road. Her vision for the next phase of the project is a book, with letters from each town making up a different chapter.
The Story Catcher Mailbox was created this past spring after the artist's proposal was selected for the "State of the Art Exhibition 2018," a project of the City of Santa Barbara, the Santa Barbara County Office of Arts and Culture, the Downtown Organization and Santa Barbara Beautiful.
Letter writers can post a letter of praise and/or grief at the Story Catcher Mailbox located at the Carpinteria Arts Center, 855 Linden Ave. Public readings will be held throughout the summer, dates to be determined.
-Debra Herrick
This story was originally published in the Carpinteria Coastal View News Vol. 24, No. 49 June 12-18, 2018.
Photo by David Powdrell.