The final stretch: Arts Center nears remodel completion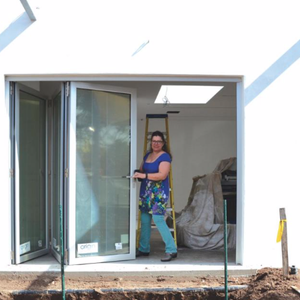 The final stretch: Arts Center nears remodel completion
Coastal View News visited the Arts Center recently to document and celebrate our near-completion status.
Rebecca Stebbins, executive director of the Lynda Fairly Carpinteria Arts Center, reveals the modern new doorway to the remodeled facility at 865 Linden Ave. The exterior walls have also been resurfaced and painted, hiding the brown faux brick design that had been held over from the former building over, Cajun Kitchen. Stebbins notes, "Our board and staff members and many colunteers have worked hard on this project, and we are so excited to soon open our doors to the entire community, to invite them to come together to celebrate the arts."
Just over a year ago, the Arts Center gutted the interior of the 1920s building, preserving a bit of history while bringing the site into the 21st century. As with all old buildings, there were surprises along the way, said Stebbins, including interior walls that were not affixed to the foundation and the absence of any steel reinforcement in the slab foundation. Numerous modifications were made to bring the building into compliance with earthquake, energy and Americans with Disabilities Act standards. The building will be energy efficient, with automatic lighting systems, proper insulation, windows and doors, and solar panels on the roof.
The final phase of construction for the center involves updating the outdoor courtyard, site of many past events and many more to come. The complete project has received approximately $500,000 in in-kind donations of labor and materials.
CLICK HERE to read full Coastal View News article.
Article and photos by Robin Karlsson.