Facing Ourselves: Carpinteria — Fine Art Portraits Focus on Migration and Integration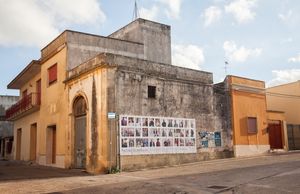 Facing Ourselves: Carpinteria — Fine Art Portraits Focus on Migration and Integration
Photographer Patricia Houghton Clarke inaugurates public art project.
Pictured: Facing Ourselves premiered in 2018 in the small southern Italian town of Martignano. (Patricia Houghton Clarke)
It all started nearly 10 years ago with an artist-in-residency grant that provided award-winning photographer Patricia Houghton Clarke the opportunity to live in a small southern Italian village and document the residents who understand what it means to "carry a suitcase."
The result of her exploration to find the commonalities of human nature and personal dignity is an immersing exhibit set to be seen much closer to home. Titled Facing Ourselves: Carpinteria, Clarke's poster-sized color portraits will be on view Oct. 18-Nov. 4 at Lynda Fairly Carpinteria Arts Center, 865 Linden Ave. Hours are 10 a.m.-4 p.m. Friday-Monday.
An opening reception will be 7-9 p.m. Friday, Oct. 18; the public exhibit opens 2-5 p.m. Saturday, Oct. 19, and includes an artist talk at the Lynda Fairly Carpinteria Arts Center. The exhibit is free to attend, although donations are welcomed. The show will also debut Carpinteria's Public Art program to coincide with the exhibit.
Within her latest series of work – Facing Ourselves – the California-based Clarke confronts the challenges, misunderstandings and stigma that accompany migrants and refugees. In response to changing social, political, economic and environmental climates, the world is on the move in numbers rarely seen before. How we address the crisis is what will define us as nations, communities and individuals.
The genesis of Facing Ourselves was forged on the frontlines of the recent wave of Northern African, Western Asian, and Middle Eastern refugees that crashed upon the shores of Western Europe. While other documentarians focused on the dramatic and politically charged journeys, Clarke quietly turned her camera upon the refugees themselves as they assimilated into new communities and cultures.
By photographing the newcomers and the communities that welcomed them, she has crafted a series of images extraordinary in its empathetic persuasiveness. The residents and recent arrivals she documented span the globe, from Africa to Asia, Europe, Middle East and the Americas, but behind the diverse array of faces, what we ultimately see are people — people just like us.
Your Health - May 2018 - 300x250
Asked about memorable facets of the Facing Ourselves project, Clarke said: "One of the most satisfying aspects of the project to date has been the ripple effect in Carpinteria, whereby community members have sponsored fundraising workshops and are creating adjunct events synchronizing with the theme of the exhibition."
The events run from poetry workshops and readings to story-cloth workshops, community conversations, and gatherings for local students to discuss what it means to accept and honor differences, creating conscious community.
All this came about naturally as Clarke was preparing space for the exhibit. Also, the Carpinteria City Council's enthusiastic response for her work sets a precedent for future art installations with other artists.
Late in 2018, Facing Ourselves premiered in the small town of Martignano in southern Italy, where it all began. For more than 100 years, the people of Martignano migrated to southern France for agricultural work, since their home had no resources for employment.
Being migrants themselves, the villagers' acceptance of "other" comes from a place deep within themselves, their families, and their own migratory history, saying "... we know what it's like to carry a suitcase ..."
The exhibition won the international Julia Margaret Cameron Honorable Mention Award for Human Rights based on the portraits from Italy and London. Several of the images were displayed this past spring in the 5th Biennale in Barcelona, Spain.
To date, Clarke has been invited by communities in Denmark, Mexico and Germany to continue the project, which has achieved international and national coverage. She hopes to create the next series in a tiny rural community in Kansas in 2020.
In addition to the gallery display inside the Lynda Fairly Carpinteria Arts Center, the Public Art photography installations will be seen 24/7 for the run at The Art Center; at the Seal Fountain on Linden Avenue near 8th Street, and at the town's main intersection of Linden and Carpinteria avenues.
Portraits will be in large format using vinyl banners. All photographs and banners will be for sale; proceeds benefit The Facing Ourselves Project and the Lynda Fairly Carpinteria Arts Center.
For more, call 805-684-7789 or visit https://www.carpinteriaartscenter.org.
Supporting organizations for Facing Ourselves: Carpinteria include: Patricia Clarke Studio; Lynda Fairly Carpinteria Arts Center; Santa Barbara Foundation; Bower Foundation; Carp Growers; Indivisible Carpinteria; McCune Foundation; Natalie Orfalea Foundation.
Also, Santa Barbara Public Library; Alcazar Theater; McFadden & McFadden P.R.; city of Martignano; Parco Palmieri and Philos Multiculturale (Italy); Waging Peace UK (England); and Abolish Blandness Gallery (Kansas).
CLICK HERE to read the full article written by Maureen McFadden at Noozhawk.