CAC keeps Class Offerings Coming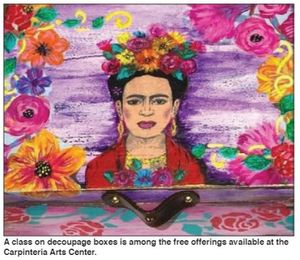 CAC keeps Class Offerings Coming
The CAC continues to provide free virtual summer art classes through August.
The Carpinteria Arts Center will provide free virtual art classes through August, including Mixed Media, Pop Portraiture and Decoupage Boxes. Advanced registration is required to recieve the materials list and zoom class login information. The first class with artist instructor Brendan Briggs will be on Saturday, Aug. 22, from 3 to 5 p.m. and will provide instruction on how to use layers of visual intensity with acrylic paints, stencils, collage bits and any mediums desired to create a mixed media piece. Additional classes will be offered online on Saturday, Aug. 29, and Saturday, Sept. 5. The upcoming classes, and other throughout the fall, are made possible by sponsorhip from 93013 Fund and the Santa Barbara Foundation.
CLICK HERE to read the original article in the Coastal View News, on pages 10-11.