Nurture and Nature Exhibit Opens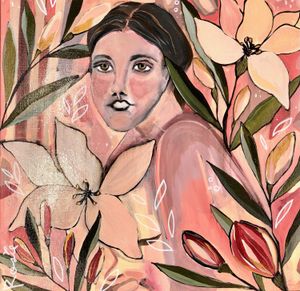 Nurture and Nature Exhibit Opens
Lynda Fairly Carpinteria Arts Center's Nurture and Nature Exhibit Opens Friday, May 6, 2022
The Lynda Fairly Carpinteria Arts Center is thrilled to announce their newest Exhibit: Nurture and Nature opening Friday, May 6th at 12 Noon.
Uniquely independent and yet inextricably intertwined, nurture and nature are the foundation of growth and humanity. This exhibit provides a glimpse into an artist's perception of the bond between.
Featuring fifty-nine pieces of artworks, the exhibit will be on display in The Charles Lo Bue Gallery beginning Friday, May 6th through Sunday, June 12th, 2022.
Entry is free. The public is encouraged to experience this unique exhibit.
The Charles Lo Bue Gallery is open 12 – 4 PM Thursday through Sunday.
A free Community Reception will be held Saturday, May 14, from 4 - 6 PM with live entertainment by Cate School Musicians.
"Earth Mother" by Rosie Wallis, Acrylic on Canvas
"Mother Earth has a secret smile in this piece. It almost looks like she knows something the rest of us don't, which is a truly maternal expression. I painted her against a backdrop of lilies representing life and fertility, highlighting the abundance which mothers provide."