Queen of the Coast Opens Jan. 14th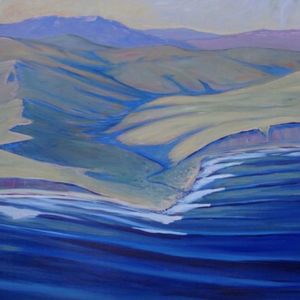 Queen of the Coast Opens Jan. 14th
Lynda Fairly Carpinteria Arts Center Features Queen of the Coast Exhibit Opens January 14, 2022
The Queen of the Coast is an art exhibit held in conjunction with the Rincon Classic featuring artists from the Carpinteria, Rincon Area, Santa Barbara, and Ventura. This exhibit is a celebration of all things related to Rincon, the Pacific Coast, and the surf culture of Southern California.
The Gallery will be open 12 – 4 PM Thursday through Sunday. The exhibit will be on display January 14 through Sunday, February 20, 2022.
The Rincon Classic is one of the oldest and most revered events in California's rich surfing history highlighting generations of the area's best surfers at the fabled cobblestones of Rincon Point during optimal winter conditions.
The Lynda Fairly Carpinteria Arts Center last held the Rincon exhibit in 2020. The energetic crowd of Rincon artists, surfers and enthusiasts broke the Arts Center's opening reception attendance records in the courtyard and gallery since the opening of the 865 building in 2019.
The Queen of the Coast public reception is Saturday, January 22, 3 - 6 PM and will feature live music in the Koch Courtyard from The Wrinkled Teenagers.
The Lynda Fairly Carpinteria Arts Center is located at 865 Linden Avenue, Carpinteria, CA, 93013. We encourage the public to experience this spectacular exhibit. Entry is free.